Explore the Benefits of Becoming an ATEM Instructor and Training
ATEM provides instructor led training programs that are flexible, dynamic, high quality and cost effective. By offering multi-media teaching format, students retain more information so they can perform effectively when needed to save a life. ATEM programs provide instructors the tools they need to assure that students learn the skills necessary in an emergency situation.
To become an ATEM instructor or training center, you must qualify to be grandfathered as an instructor, and purchase the CPR/AED/First Aid/BBP instructor package. ATEM CPR/AED/First Aid/BBP Instructor Package $125.00. Includes instructor manual, 10 student books, 10 student cards, instructor manual, video and more.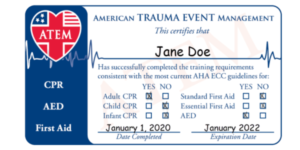 ~ Pricing for Individual Cards
CPR, First Aid, AED and O2 (2-year certification) – $2.25
BBP (1-year certification) – $2.00
~ Comprehensive Student Manuals (English) $3.00 each
~ Comprehensive Student Manuals (Spanish) $3.25 each
Includes Adult, Child and Infant CPR:
AED Training

First Aid

Blood Pathogens

Emergency Oxygen

Adult CPR

Child CPR

Infant CPR

Choking Procedures

First Aid

Emergency Oxygen

Only One Book Needed, Easier Reference for Students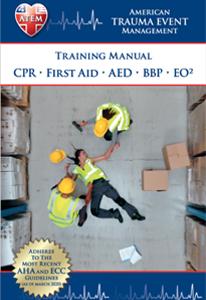 ~ Training Media Offered in the Following:
DVD in English and Spanish

Jump Drive in English and Spanish

Student Manuals in English and Spanish

PowerPoint in English
~Workplace Violence Instructor Package $50.00
Video

25 Tri-fold Information Sheet
Blended Training Available Online
Can be Created With Your Company Logo

Your Students Have Access to Online Refresher Video/Tests Throughout Their 1 or 2 Year Certification Period
~

 ATEM Severe Bleed Care Instructor Package $65.00
Instructor Manual

DVD

Instructor Certification Card

Class Roster

Class Evaluations

Quiz

10 Student Manuals

10 Certification Cards

Skills Practice Sheets